The simplest way to order is to use our on-line secure store. Nearly all items we carry are now on line.
Call our toll free (sorry U.S.A. and Canada only) phone number 1-888-854-4081
Our phone number for inquires, questions and just to gab! is 1-717-854-4081.
By e-mail
Our mailing address is: Triple-C Motor Accessories 1900 Orange Street, York, PA 17404 USA
We gladly accept the following credit cards American Express, MasterCard, Visa and Discover Cards. Plus we now accept Paypal.
We're open from 9am till 5.30pm EST Monday to Friday. Saturdays are subject to our attending a car show. If you're thinking of visiting, please call ahead to insure the item you are seeking is in stock and to ensure that we will be open when you intend to arrive. (We'll often answer the phone outside the above hours, but please no midnight calls from the west coast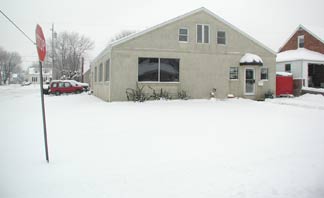 Our world wide headquarters during some of York's finest cool weather.