Hi and welcome to our web site. Triple-C has been the leader in classic British and European auto accessories for over 26 years. We search the world looking for interesting and unique car accessories to offer so come inside and take a look. Like to talk our phone number is 1-480-361-2529 m/f 9-4 MST

Just back from the UK with the last of the old original Wilmot Breedon key stock. Call to check we can now supply original NOS keys in the following keyways - Most MRN, FA, FP, FS and FT. For those looking for 100% originality we now can supply a number of FP (MGA, TR3 etc) original coded ignition barrels along with FS ignition barrels in any FS code you need call for details as these can be supplied with or without keys.
Coming soon re-coding of Wilmot Breedon key cylinders - we'll soon be able to re-code any MRN, FA, FP, FS or FT lock that you have (you supply the barrel) and we'll replace wards and springs to any code you like within the existing locks range - call for details.

Lots of electrical connectors just added including 3/8" push on connectors and insulators, 1/4" flag style connectors and at last the correct 1-1/4" glass fuses (20, 35 and 40A) for your classic British car. See all our Lucas style connectors.
New Items recently added
Your MGBs console would appreciate a little attention this year... Check out our selection of accessories for yours.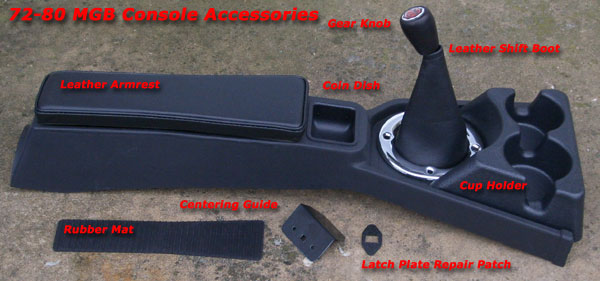 New MGB/.MGBGT 1070+ Seat belt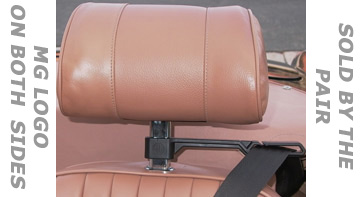 This clever Guide keeps your shoulder strap properly over your shoulder instead of chafing against your neck or even falling off your shoulder. It also keeps your strap ready to grab when getting into your MG. Furthermore, it eliminates those twists you always have to untangle when retrieving the shoulder strap and seat belt from alongside your seat.
This is a remedy available both by original equipment makers and the aftermarket on other cars, but needed badly for our MGs.
Made of tough but flexible black plastic with UV inhibitors for long life. Installs by removing your head rest and simply sliding on for a friction fit. No tools required. Guide can also be modified for snap-on installation if your head rest is frozen.
Now also available for TR6 and other such as Jaguar with a single post headrest. See our part number P1198BL.



If you are involved with a club that is holding an event this year - please have the appropriate person contact us through our events page to add your show/event. Thousands of potential visitors check our event page every year and it's free to advertise your show.
Look forward to hearing from you and don't forget to send in your car images for our Showcase Of Cars
Store your car the correct way - Let John Twist show you how...
Parts, Accessories and keys for British cars - specializing in New MINI Cooper, MINI Cooper S (BMW) classic Mini and British Sports Cars such as MG, MGB, MGA, TR3. TR4, TR6, TR7, TR8, Spitfire, Austin-Healey, Jaguar, TVR, Land Rover, Sunbeam, Sprite, Morris Minor, Morgan etc.